About Mark Goodger
At Mark Goodger Antiques, we pride ourselves on our ability to provide intricate services and luxury pieces; we've spent almost 30 years buying, selling, and lovingly restoring antiques.
What makes us unique is our collective hands-on experience in the antique industry and our skilled and passionate team. Mark, who is devotedly passionate about his crafts and profession, leads his dedicated team of experts, who possess collective hands-on experience in the Antique Industry, gained from handling thousands of antique boxes and accessories over a long period of time.
Our expertise in antiques is second to none. Among our collection are a variety of Antique Boxes, Tea Caddies and Accessories, suitable for decorative or practical purposes, or as an investment. No matter what the occasion, whether it's a special gift, a lasting memory memento or a treat for yourself, our radiant Antiques will add a touch of sophistication and effortless charm to any setting.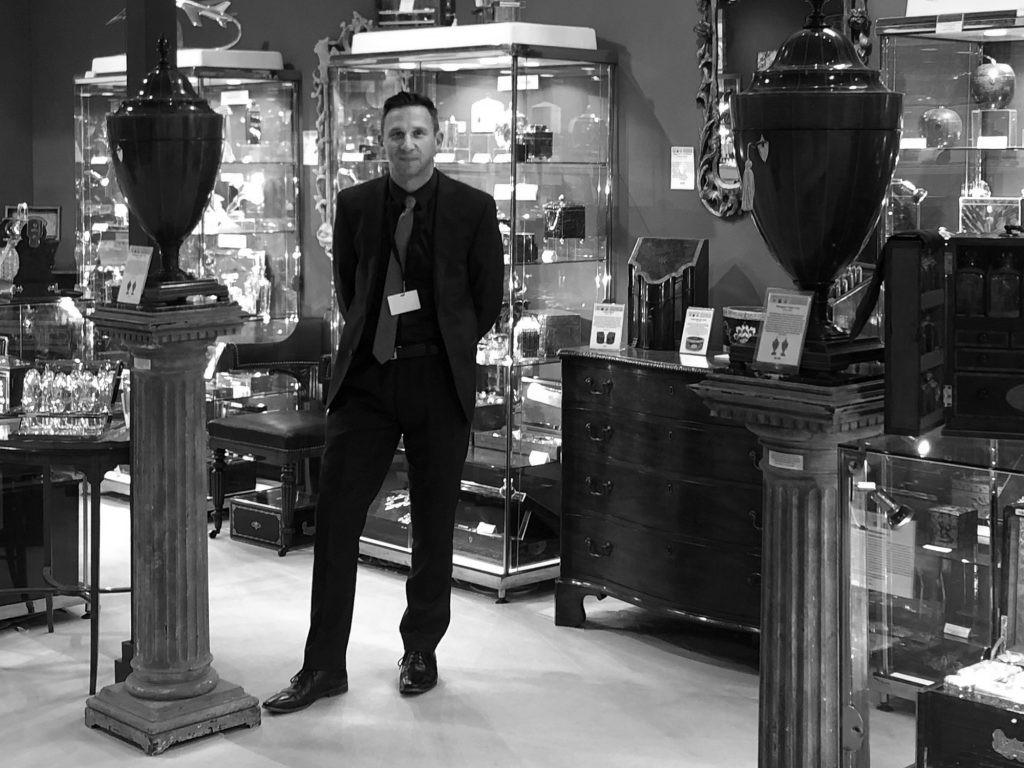 Mark Goodger Antiques, originally Hampton Antiques, was established in 1998 by Mark Goodger in Northamptonshire, United Kingdom.
In what began as a petite market stall selling antiques on Portobello Road, we have grown to be recognised as one of the world's leading experts in our field. Over the years, we have acquired a fantastic team of restorers and conservators. We possess industry expertise and skills, accredited by LAPADA, CINOA, and CADA, with whom we hold memberships.
We can assure you complete peace of mind and confidence when you buy one of our gleaming antiques. Each piece available is authenticated and complete with a certificate of authenticity.
Mark found his passion for antiques in his late teens after starting an apprenticeship in cabinet-making with an antique restoration company. This is when Mark's love and fascination for tea caddies started, as Mark was enchanted by a small wooden caddy his college tutor brought in for a French Polishing demonstration, he then became captivated by the pieces he'd come across. Mark's fondness for antiques led him to work for a dealer who specialised in antique boxes, where he was fortunate to learn all aspects of box restoration and the skills of buying and selling in a  unique trade. Following his boss's semi-retirement in 1998, Mark founded Hampton Antiques, the name inspired by "Hamtun" – the original Anglo-Saxon name of Northampton where Mark established himself.
In the early days, the company began as a tiny market stall selling antiques on Portobello Road. As one of the world's leading experts in our field, we are considered one of the finest in the world. It is no secret that we are widely recognised as one of the world's most respected specialists in our field today.
With over 35 years of experience trading and lovingly restoring boxes, we are familiar with them extensively. Our collection comprises an extensive range of antique boxes and accessories, which serve a mixture of purposes, including decoration, practicality, and investment.
Over the years, we have accumulated and developed a fantastic team of meticulous restorers and dedicated conservators who possess extensive knowledge of antiques and experience in the industry.
We possess industry expertise and skills, accredited by LAPADA, CINOA, and CADA, with whom we hold memberships.
Our collection has confidently expanded over the years to include fine antique accessories. In addition, we have diversified our collection by selling a selection of René Lalique car mascots from the 1920s Art Deco period.
After being granted a LAPADA membership, we then joined BADA, where we had the opportunity to exhibit at their prestigious fairs in London, including in Berkeley Square and Duke of York Square.
Being a member of the CADA committee for nearly ten years, Mark is very proud of his involvement in the organisation. Additionally, he is involved in the vetting of numerous auction houses and antique fairs across the country – with the assistance of his expertise, he serves as an expert witness to validate and verify the authenticity of antiques for sale at certain events.
Mark's exceptional skills, expert knowledge and remarkable experience have given him a window of opportunities over the years, including selling and curating a collection for Compton Verney. He is a master in selling and curating collections – Mark has done this with a Tea Caddy collection for The East India Tea Company. Moreover, Mark has also sold and curated a collection for Harrods, working alongside other designers to catalogue a collection for Harrods' Hong Kong store.
As a proficient buyer with a keen eye for acquisitions, Mark's talent is recognised and appreciated by associations and companies worldwide.
As well as being a master of selling and curating collections, Mark is a pioneer in finding distinct, rare and fine Antique Objects. Mark's talent and his eye for buying are recognised by associations and companies across the world. Located in The Indian Heritage Centre is an exquisite 1800s century Vizagapatam 'Cottage' Box in ivory and sandalwood, donated to the museum, curated and sold by Mark Goodger Antiques. The Indian Heritage Centre is a cultural museum in Singapore dedicated to showcasing the culture, heritage, and history of Indian Singaporeans.
As part of Anne Stevens' historically detailed book entitled – "The Story of British Tea Chests and Caddies", Mark contributed a chapter on the subject of Tea Caddy Fakes, which also includes photographs of some of our pieces. In addition to writing and composing a chapter about Tea Caddy Fakes, Mark also participated in research for the book. The cultural book contains a collection of pieces Mark acquired over the years concerning tea. In the book, you can view some of the Tea Chests and Caddies we have amassed over the years.
Many pieces from our collection and chapters about us have been featured in books, catalogues, and magazines, namely the Homes and Antiques magazine and blog, and we are regularly featured in the Antiques Trade Gazette magazine and their website.
We exhibit at many different prestigious antique fairs across the country throughout the year.
In order to help you acquire the piece of art that you desire, we offer experience, authenticity, and advanced expertise. Our excellence will assist you in choosing the perfect piece for your home.
Go to our events page to find out how you can visit us.