Art Deco Fan Shaped Decanter
£575.00
Featuring a Fan Shaped Body & Decanter From our Decanter collection, we are delighted to offer this Art Deco Decanter. The Decanter with a wide tapered body with faceted faces surmounted by a continental French Silver collar and fan shaped... Read More
With a Sterling Silver Collar
Enquire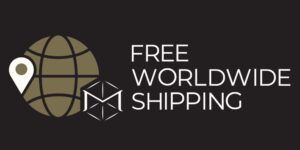 ---
| | |
| --- | --- |
| Dimensions | 19 × 10 × 22 cm |
| Period | |
| Year | |
| Country | |
| Medium | |
| SKU | 500371 |
Description
Description
Featuring a Fan Shaped Body & Decanter
---
From our Decanter collection, we are delighted to offer this Art Deco Decanter. The Decanter with a wide tapered body with faceted faces surmounted by a continental French Silver collar and fan shaped stopper. The neck hallmarked with the French Minerve casquée for 950/1000 fineness and the maker's mark reading L (heart) C which is unknown. The Decanter dates to the Art Deco period Circa 1930.
---
Art Deco was a style of visual arts, architecture, and product design that first appeared in France in the 1910s. It flourished in the United States and Europe during the 1920s to early 1930s. It was hugely prevalent through styling and design of the exterior and interior of anything from large structures to small objects and even influenced fashion and jewellery. Art Deco has influenced bridges, buildings, ships, ocean liners, trains, cars, trucks, buses, furniture, and everyday objects like radios and vacuum cleaners. It has become extremely popular today and is highly desirable to collectors and trendsetters in the fashion industry.
---
With every purchase from Mark Goodger Antiques, you will receive our latest catalogue, a Certificate of Authenticity, detailed care instructions for your chosen piece and an independent invoice (for insurance purposes) will be enclosed. As well as being protected by a no-hassle, money-back policy, your piece will be entirely insured during the shipping process to ensure the safety of your item.
Additional information
Additional information
| | |
| --- | --- |
| Dimensions | 19 × 10 × 22 cm |
| Period | |
| Year | |
| Country | |
| Medium | |
| SKU | 500371 |