Danish Cigar Box by Andersen & Sohoel
£475.00
Inlaid with Plimsoll Line Symbol  From our Boxes collection, we are pleased to offer this Mid-Century Modern Rosewood Cigar Box. The Box of slim rectangular form made from solid Rosewood with a Silver thumb tab and hinge with a central... Read More
Danish Rosewood Cigar Box
Enquire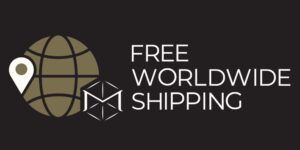 ---
| | |
| --- | --- |
| Dimensions | 23 × 15 × 4.5 cm |
| Period | |
| Year | |
| Medium | |
| Country | |
| SKU | 500462-MEX |
Description
Description
Inlaid with Plimsoll Line Symbol 
---
From our Boxes collection, we are pleased to offer this Mid-Century Modern Rosewood Cigar Box. The Box of slim rectangular form made from solid Rosewood with a Silver thumb tab and hinge with a central Plimsoll Line symbol to the lid. The Box by Danish designers Andersen & Sohoel dates to circa 1960 with an Art Deco influenced design. This Box was probably commissioned by or for a Sea Captain or Naval officer due to the unusual Plimsoll Line symbol.
---
Rosewood has many variations. Indian Rosewood, Madagascan Rosewood, Mexican Rosewood, Rio Rosewood, Brazilian Rosewood, San Dominican and Santos Rosewood. All types are prized for their grain and colour. Generally, the colours range from a medium-dark red-reddish brown.
Plimsoll Line is a reference mark located on a ship's hull that indicates the maximum depth to which the vessel may be safely immersed when loaded with cargo. This depth varies with a ship's dimensions, type of cargo, time of year, and the water densities encountered in port and at sea. Once these factors have been accounted for, a ship's captain can determine the appropriate Plimsoll line needed for the voyage
---
Every purchase made from Mark Goodger Antiques is accompanied by a comprehensive suite of documents to ensure your satisfaction and peace of mind. This includes our latest catalogue, a Certificate of Authenticity, detailed care instructions for your chosen item, and an independent invoice for insurance purposes. Additionally, your purchase is protected by our no-hassle, money-back policy, and your item will be fully insured during the shipping process to safeguard against damage or loss.
Additional information
Additional information
| | |
| --- | --- |
| Dimensions | 23 × 15 × 4.5 cm |
| Period | |
| Year | |
| Medium | |
| Country | |
| SKU | 500462-MEX |