Oversized English Boulle Inkstand
£1,675.00
Large Sized Boulle Inkwell & Pen Tray  From our Accessories collection, we are pleased to offer this English Oversized Boulle Inkstand. The Inkstand with a square base having four convex faces used to sit pens leading up to a large... Read More
With a Central Glass Inkwell & Faceted Lid
Enquire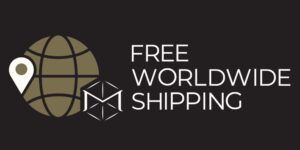 ---
| | |
| --- | --- |
| Dimensions | 26.5 × 26.5 × 9 cm |
| Period | |
| Year | |
| Country | |
| Medium | |
| SKU | 501266 |
Description
Description
Large Sized Boulle Inkwell & Pen Tray 
---
From our Accessories collection, we are pleased to offer this English Oversized Boulle Inkstand. The Inkstand with a square base having four convex faces used to sit pens leading up to a large central Ink Well with a faceted spherical lid and brass collar. The Boulle work finished in typical fashion with Tortoiseshell and Brass inlay. The Inkstand dates to the 19th century and the middle of the Victorian period circa 1880. Made for Asprey.
---
Boulle is a rich marquetry process or inlay perfected by renowned French cabinetmaker André-Charles Boulle (1642–1732). It involves veneering furniture with sheets of tortoiseshell which have been meticulously inlaid with brass and/or pewter in elaborate designs, often incorporating arabesques.
Tortoiseshell describes a type of decorative material made from the shells of certain species of sea turtles. The shells of these turtles are composed of a hard, glossy substance called keratin, which can be cut and shaped into a variety of decorative items. Tortoiseshell has been used for centuries to make a range of decorative objects, including combs, brush handles, and other small items. It is also sometimes used to make tea caddies, as it is strong, durable, and can be polished to a high shine. The term "tortoiseshell" is used to describe these decorative items, even though they are made from the shells of sea turtles because the term has been used historically to refer to this material.
Victorian, an era of British History corresponding approximately with the reign of Queen Victoria from the 20th of June 1837 until her death on 22 January 1901 however, there are arguments stating that the Victorian era is actually from 1820 until 1914 proceeded by Georgian era and followed by the Edwardian era.
---
Every purchase made from Mark Goodger Antiques is accompanied by a comprehensive suite of documents to ensure your satisfaction and peace of mind. This includes our latest catalogue, a Certificate of Authenticity, detailed care instructions for your chosen item, and an independent invoice for insurance purposes. Additionally, your purchase is protected by our no-hassle, money-back policy, and your item will be fully insured during the shipping process to safeguard against damage or loss.
Additional information
Additional information
| | |
| --- | --- |
| Dimensions | 26.5 × 26.5 × 9 cm |
| Period | |
| Year | |
| Country | |
| Medium | |
| SKU | 501266 |