Tell Me How Art Deco Cocktail Shaker
£1,275.00
Made in Great Britain  From our Barware collection, we are thrilled to offer an Art Deco 'Tell Me How Cocktail Shaker'. The Cocktail shaker externally plated in Silver with rectangle viewing windows for cocktail recipes. The domed lid is plated in... Read More
Enquire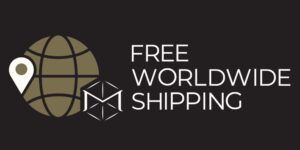 ---
| | |
| --- | --- |
| Dimensions | 10 × 10 × 28 cm |
| Country | |
| Medium | |
| Period | |
| Year | |
| SKU | 501256-TPCE |
Description
Description
Made in Great Britain 
---
From our Barware collection, we are thrilled to offer an Art Deco 'Tell Me How Cocktail Shaker'. The Cocktail shaker externally plated in Silver with rectangle viewing windows for cocktail recipes. The domed lid is plated in gold matching the internal gilded recipe liner which contains a top band of cocktails and the recipes below which show through the viewing windows. The Cocktail shaker splits into four sections, the gilded lid, the gilded liner, the silver-plated body and the removable silver-plated shoulder with an inbuilt strainer. The cocktail shaker dates to the Art Deco period circa 1930.
---
Art Deco was a style of visual arts, architecture, and product design that first appeared in France in the 1910s. It flourished in the United States and Europe during the 1920s to early 1930s. It was hugely prevalent through styling and design of the exterior and interior of anything from large structures to small objects and even influenced fashion and jewellery. Art Deco has influenced bridges, buildings, ships, ocean liners, trains, cars, trucks, buses, furniture, and everyday objects like radios and vacuum cleaners. It has become extremely popular today and is highly desirable to collectors and trendsetters in the fashion industry.
Gold / Silver Plating refers to a method of applying a thin layer of gold or silver to a base metal such as brass. Therefore it refers to an item which is not solid gold or silver but is plated to the outer coating.
---
With every purchase from Mark Goodger Antiques, you will receive our latest catalogue, a Certificate of Authenticity, detailed care instructions for your chosen piece and an independent invoice (for insurance purposes) will be enclosed. As well as being protected by a no-hassle, money-back policy, your piece will be entirely insured during the shipping process to ensure the safety of your item.
Additional information
Additional information
| | |
| --- | --- |
| Dimensions | 10 × 10 × 28 cm |
| Country | |
| Medium | |
| Period | |
| Year | |
| SKU | 501256-TPCE |