Victorian Sterling Silver Tea Caddy
£575.00
Ebony & Silver Finial  From our Tea Caddy collection, we are pleased to offer a Victorian Silver Tea Caddy. The Silver Tea Caddy of unusual oval shape with a gadrooned ribbed exterior and stepped lid surmounted by an Ebony and... Read More
Enquire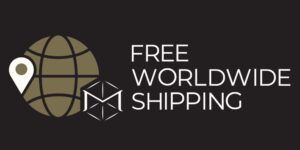 ---
| | |
| --- | --- |
| Dimensions | 11 × 8 × 12 cm |
| Period | |
| Year | |
| Medium | |
| Country | |
| SKU | 500582AEX |
Description
Description
Ebony & Silver Finial 
---
From our Tea Caddy collection, we are pleased to offer a Victorian Silver Tea Caddy. The Silver Tea Caddy of unusual oval shape with a gadrooned ribbed exterior and stepped lid surmounted by an Ebony and Silver finial. The Silver is fully hallmarked for renowned Silversmiths William Hutton and Sons of London (Edward Hutton) and is dated 1891 towards the latter end of the Victorian era.
---
Ebony is often almost completely black with very little visible grain often with a subtle red/purple hue. This wood is very expensive due to the slow-growing trees which can often be gnarly affecting the yield of straight workable wood. Most ebonies are very dense making work with hand tools very difficult and can quickly clunt cutting tools. This density however offers an excellent finish on turned items.
Victorian, an era of British History corresponding approximately with the reign of Queen Victoria from the 20th of June 1837 until her death on 22 January 1901 however, there are arguments stating that the Victorian era is actually from 1820 until 1914 proceeded by Georgian era and followed by the Edwardian era.
Sterling Silver is an alloy composed by weight of 92.5% silver and 7.5% other metals, usually copper. The sterling silver standard has a minimum millesimal fineness (parts per thousand) of 925.
William Hutton & Sons was established in Birmingham in 1800 by William Hutton, and was transferred to Sheffield in 1832. The company operated out of  West Street, Sheffield as well as later including Hanley Street, Birmingham and 11 Warwick Court, High Holborn, London. They had a showroom also in London. The firm became William Hutton & Sons in 1864 and William Hutton & Sons Ltd from 1893 to 1930. In 1930 they transferred the business to James Dixon & Sons Ltd. In the late 19th century Hutton developed a new nickel alloy that could be used for plating called British Plate which is marked 'BP' on flatware.
---
With every purchase from Mark Goodger Antiques, you will receive our latest catalogue, a Certificate of Authenticity, detailed care instructions for your chosen piece and an independent invoice (for insurance purposes) will be enclosed. As well as being protected by a no-hassle, money-back policy, your piece will be entirely insured during the shipping process to ensure the safety of your item.
Additional information
Additional information
| | |
| --- | --- |
| Dimensions | 11 × 8 × 12 cm |
| Period | |
| Year | |
| Medium | |
| Country | |
| SKU | 500582AEX |