Antique Vanity Box Gifted By HRH Queen Victoria
A Gift from HRH Queen Victoria From our box collection, we are privileged to offer this historically significant dressing vanity case. The case of rectangular form is veneered in Coromandel with quadrant brass edging. The top of the box is... Read More
Enquire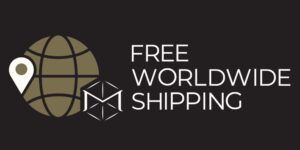 ---
Description
Description
A Gift from HRH Queen Victoria
From our box collection, we are privileged to offer this historically significant dressing vanity case. The case of rectangular form is veneered in Coromandel with quadrant brass edging. The top of the box is inlaid with a brass crowned monogram ELC for Lady Elizabeth Lucy Cuffe (neé Campbell) the Countess of Desart and Lady of the Bedchamber to Queen Victoria between 1845 & 1864.  The underside of the lid is lined with green velvet and embroidered with a Countess coronet and monogram. Behind this, reveals a removable gilded freestanding mirror, concealing a leather letter case, lined with silk. The interior back edge is stamped by the manufacturer and Royal Warrant Holders Ortner and Houle of St. James, London (who were engravers for Queen Victoria).
The dressing case contains an extensive collection of fifteen hand-cut glass silver-gilt travelling containers housed in velvet. The containers are beautifully topped with solid gold Countess coronet and initials hallmarked Tween and Purnell 1866. The front folds down to reveal a wonderful accoutrements pad holding a further eighteen tools which include a needle-case, scissors, corkscrew and, unusually, a pair of rulers with one being Mother of Pearl, and the other sterling silver. With the front folded down, the main sections swing out 90 degrees and once fully opened the secret compartments can be accessed by removing the oblong glass containers and pressing the middle of the velvet compartments. Underneath these, are a hand mirror, a glove stretcher and a shoehorn. There is also a drawer just above the front tool pad which contains various brushes, with a further gold coronet & monogram replicating the sterling silver gilt lids and a letter opener. The drawer is released by pressing the engraved plate on the interior back edge. The lock plate was made by renowned locksmiths Chubb & Son who were Royal Warrant holders. The lock is stamped in several places Chubb and Son and bares registration number 488065.
Overall the box is an exceptional example of craftsmanship with a formed partnership from three different manufacturers. It also bares a huge historical value with links to both the Royal family, specifically Queen Victoria and her direct Lady of the Bedchamber Lady Elizabeth Lucy Cuffee (neé Campbell). We believe this box was commissioned by the Queen as a parting gift for Lady Elizabeth's services, or possibly as a 40th birthday present.
The Silver Gilt Vanity Box is complete with a working lock and key.
---
Lady Elizabeth Lucy Cuffe (neé Campbell) was considered by many, to be a lady of exceptional beauty. She is said to have caught the eye of Napoleon III when he met her at a society soiree during his residence at Leamington Spa in 1838. It is said that a fellow guest asked him if he liked the house at which the soiree was being held, to which he replied "I like it very much but…" (turning to the countess) "… the pretty Desart even more." Elizabeth married the 3rd Earl of Desart on June 28, 1842. In 1845 the Countess was invited to become Lady of the Bedchamber to Queen Victoria 1845 – a role she took delight in, until 1864.
Chubb & Son (1818 – 1990) Chubb & son patent lock and safe makers to the Queen and the Prince of Wales. Chubb's first Special Licence was granted in 1823 by King George IV. Among other early customers of note were the Duke of Wellington who ordered four locks and a new key for Apsley House. They also supplied the Bank of England with two locks priced at 6 guineas each.
Ortner & Houle (Evan Ortner and Henry Houle) of 3 St James's St and 4 Pickering Place, London worked c.1860-c.1900 were jewellers and suppliers of outstanding fitted travelling cases. They were also specialist heraldic seal, die and medal engravers and were Royal Warrant holders in that regard.
William Tween and Fred Purnell 4 Kirby Street, Hatton Garden, London – 25 Hatton Garden, London took over Pittway Brothers who were silversmiths and retailers of fine quality fitted portmanteaux and toilet cases. Thought to have been established circa 1784 by John and William Pittway. It was then acquired by William Tween and Frederick Purnell who continued to run the business under its former name. By the late 1860s, Tween left the business leaving Purnell to continue alone. An article from The London Gazette in February 1865 reads "NOTICE is hereby given, that the Partnership hereto-fore subsiating between us the undersigned, William Tween and Frederic Purnell, of No. 4, Kirby-street. Hatton Garden, in the city of London, Dressing Case Manufacturers, trading there as Dressing Case Manufacturers, under the firm, style, or designation of Pitway Brothers, was this day dissolved by mutual consent. All moneys will be paid and received by the undersigned Frederic Puruell.—Dated this 1st day of February 1868. William Tween & Fred Purnell."
With every purchase from Mark Goodger Antiques, you will receive our latest catalogue, a Certificate of Authenticity, detailed care instructions for your chosen piece and an independent invoice (for insurance purposes) will be enclosed. As well as being protected by a no-hassle, money-back policy, your piece will be entirely insured during the shipping process to ensure the safety of your item.
Additional information